While roof repair and replacement might be the bread and butter of our business, it's certainly not the only thing we can do.
Our extensive list of contractor services is designed to help with many of your home maintenance needs.
Give us a call
for a free estimate.
Wind, rain, snow and hail can do a number on your roof. If you find shingles in your yard or suspect storm damage to your roof, we're able to match your existing shingles and repair the damage. Depending on the source of the damage, your homeowners insurance might cover the cost of repairs.
Unfortunately, a roof doesn't last forever. If it's been more than 15 years since you've replaced your asphalt shingles, it may be time to install a new one. We can discuss the different roof types available as well as any financing you might need.
Gutter or Downspout Repair and Replacement
Keeping water out of your house is key to maintaining its integrity. Water penetration can lead to mold, mildew and a host of other problems. Properly functioning gutters and downspouts are necessary to direct water away from your home. Let us inspect your gutters and downspouts to make sure they're working at full capacity and leading water away from your home.
Siding Repair and Replacement
A strong windstorm can rip siding right from your house. Maintaining the exterior of your home is critical so the structural soundness isn't compromised. Aging siding can not only be an eyesore, but it can allow the elements to make their way into the interior of the house and cause structural damage. By installing new siding or repairing any problem areas, we're able to prevent that from happening.
Interior and Exterior Painting
A new coat of paint can go a long way in refreshing the interior of your home or improving the curb appeal of the exterior of your house. Whether you have plans to move, or your house's look just needs an update, we're here to help with all your painting needs.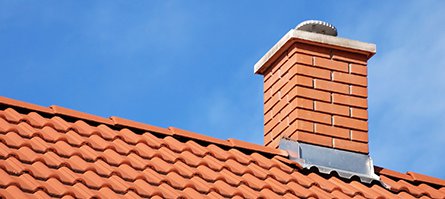 Chimney Flashing Repair and Replacement
The point where the roof meets the chimney needs protection from water. That's where your chimney flashing comes into play. Every chimney is different, so repairing or installing new flashing is often a custom job. If you suspect water leakage around the chimney, or need a new roof installed, it's best to have the chimney flashing inspected.
Improperly vented attics can lead to increased moisture and mold, mildew and temperature fluctuations that affect your home's overall energy efficiency. Installing a ridge vent at the peak of your roof can help ensure the air flows as it should through your attic and the space maintains a proper temperature year-round.
Drywall Installation and Finishing
The backbreaking work of installing drywall can be tedious for the average DIY'er. Let us take the load off your shoulders — literally. Our crews are able to deliver, install and finish any drywall project that's on your to-do list.
Bauerle Roofing is a licensed, bonded and insured contractor — which means you don't have to worry should something go wrong. We have the necessary coverage to safeguard your property.